Birdwatchers often talk of identifying a bird at a distance just by its 'jizz', its characteristic outline and behaviour. We can all do this with people, too – you can recognise a friend or family member a long way off, just by their profile and the way they walk. Most trees have a very distinctive outline as well. When I was a child my parents tried to distract me on what then seemed to me interminable car journeys by playing a game of counting the different trees we could identify on the way. Once you got your eye in it was easier than you might think and we'd usually get quite a good tally in the ten miles or so before I asked, 'Are we nearly there yet?'. Try it next time you drive children to Woodbridge or Ipswich, as a green alternative to electronic toys.
Anyway, once you know the common trees any strangers start to stand out and I've seen some unusual tree species this month. One was in a scruffy churchyard with some Yews and Ash and it flummoxed me at first. But when I got close I could see some of last year's leaves and shrivelled brown fruits on the ground and I noticed the smooth trunk was peeling away in chequered plates. Ah, Chequers, the old country name for a fine but now rare native British tree, the Wild Service.
We also visited the Gainsborough Gallery in Sudbury last month, which has a charming little garden at the back, once a herb garden or a domestic orchard, I guess. They have a trio there of ancient trees of great distinction – a large spreading Mulberry, propping itself up with twisted limbs bent down to the ground like elbows; a quince, famous in classical times for its 'golden apples', which make superb quince jelly (perfect with cheeses); and thirdly a Medlar, the fruit that famously goes rotten almost before it is ripe, but is delicious if you can catch it just right. None of these three is native to Britain, but they are now long-established residents and add great character to our treescapes.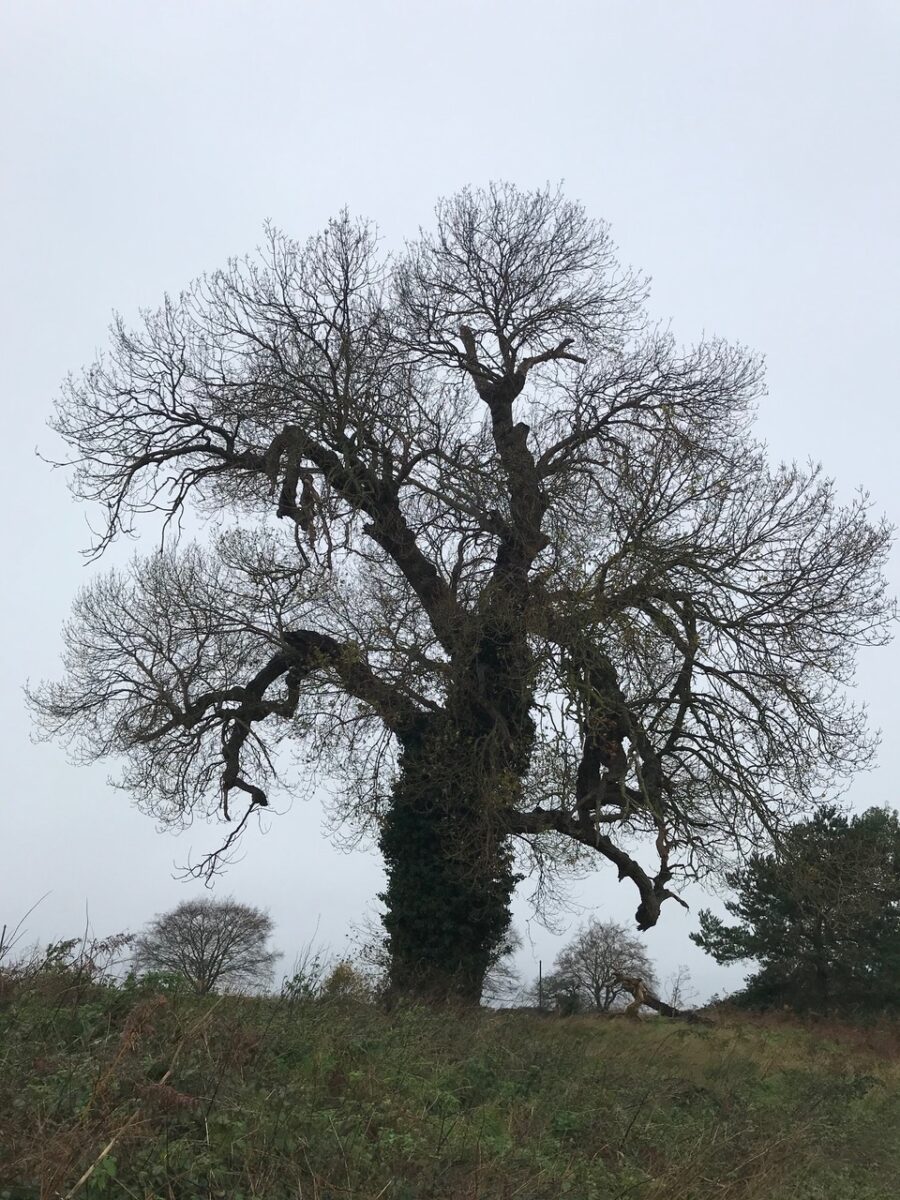 My final encounter was the best, though. I unexpectedly came across a magnificent tree standing almost alone in a field near Butley. And this time I did recognise it straightaway. It had a very characteristic tilt to it and deep corrugations in the corky bark. A Black Poplar, once common in East Anglia and a familiar sight in Constable's paintings, but now endangered following the drainage of our water meadows for 'development'. I couldn't resist it. I gave it a hug.
Jeremy Mynott
4 March 2023