Shingle Street is a place of great natural beauty, a designated Site of Special Scientific Interest (SSSI), and a popular destination for swimmers, fishermen, bird watchers and walkers, especially in the warmer summer months. The Shingle Street residents welcome visitors but do request that they are respectful to the place, the people who live here and to other regular visitors. The information below is designed to help people make the most of their visit and to ensure that the beauty and character of Shingle Street can be maintained.
Thank you.
Swimming
Swimmers at Shingle Street can experience strong tides and rip currents, especially at the mouth of the River Ore where ebb tides of up to 5 knots (6 mph) can easily carry a strong swimmer out to sea. Be very careful and keep an eye on other members of your group. If you do get caught in a current, RNLI advice is to swim across it rather than try to swim against it.
In June 2022, 2 fit young men got into trouble and had to be rescued by lifeboat and coastguard helicopter. See "Swimmers suffer hypothermia after being swept out to sea" in the East Anglian Daily Times.
Visiting groups and filming
Our residents' association (SSSL) has a particular responsibility for protecting the shingle banks and the rare flora that grow on them as these areas are designated as a Site of Special Scientific Interest (SSSI). Unfortunately, in recent years the increasing number of visitors has resulted in some trampling of sensitive areas within the SSSI. The risk of inadvertent damage is greatest when whole groups are walking across these areas, so we are now reluctantly discouraging the many requests we get for official visits by large, organised parties. An exception is made for applications from school, university or other educational and research-oriented groups, provided that group numbers are limited and that approved groups observe the precautions necessary to protect this rare and fragile environment. The alternative would eventually be to cordon off these areas entirely, which we are most reluctant to do for the sake of respectful individual visitors.
We are also not permitting visits for filming or photo shoots on SSSL land unless it is solely for personal usage (that is, not for commercial or publicity purposes). This is to mitigate the impact of trampling sensitive areas on the shingle banks and also to avoid intended, or unintended, publicity of the area that may result in significantly greater visitor numbers, for example through sharing on social media.
Commemorative memorials and benches
We routinely receive requests to place commemorative benches and other memorials on SSSL land. Regretfully we have to decline all requests for the following reasons:
The residents' association is responsible for conserving the Shingle Street environment and maintaining its designation as an Area of Outstanding Natural Beauty and a Site of Special Scientific Interest. It would not be practical to accommodate all such requests without compromising its designated status and affecting the special character of the place.
In order to maintain equal treatment for all, we do not feel it right to consider any exceptions to the above.
Parking
Parking in Shingle Street is kindly permitted by private landowners, but overnight sleeping in vehicles is not permitted. Please park with consideration for others. At peak times in summer, there have sometimes been several hundred cars at Shingle Street, resulting in road blockages and consequent difficulties for delivery vans and even emergency services in getting through. Ditches have therefore now been dug on one side of the road to discourage parking on both sides. This is not to stop people from coming to Shingle Street but just to ensure that essential access to the hamlet is maintained and the open grassland is protected.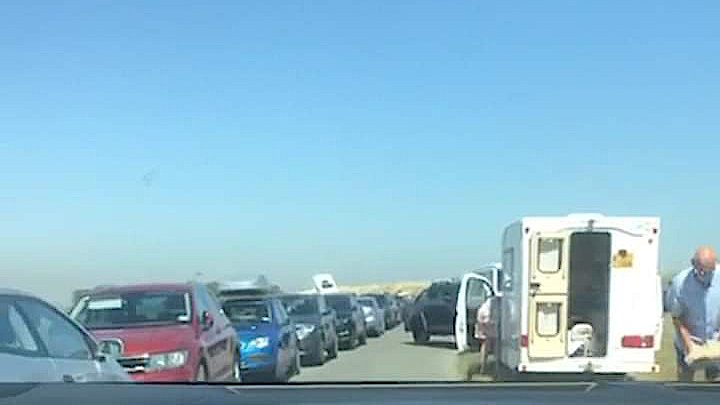 Bike Racks
Bicycle racks have now been placed in the car parks at both ends of Shingle Street to encourage visitors to come by bike rather than by car and to ensure that cyclists can leave their bikes safely. Please note that neither bikes nor any wheeled vehicle can be used on the shingle itself because of the damage their tracks cause to the fragile environment, in particular the beach flora.
Litter and rubbish
Please do not leave any litter on the beach or the marshlands behind it. Visitors should take their rubbish away with them. In the past, rubbish bins at the car parks have been filled to overflowing, with the wind soon spreading any overflow over the surrounding area. In line with experiments in some other parts of the country, the bins have now been removed from the southern end to encourage people to take their litter away when they leave.
Dog Poop
Please collect your dog poop and either take it away with you or put it in the special red bins provided. There are two: one at the car park at the northern end (see photo above); and one at the edge of the trees at the southern end where the seawall footpath starts.
Toilets and camping
There are no toilet facilities at all in Shingle Street, so please plan your visits accordingly and avoid despoiling or polluting this lovely place in offensive and unhygienic ways. Please also note that there is no overnight camping at Shingle Street. All the land from fields through the beach to the foreshore, including the land on which visitor parking is permitted, is privately owned, and no camping is allowed anywhere.